Fowler Family Ranches
Off Market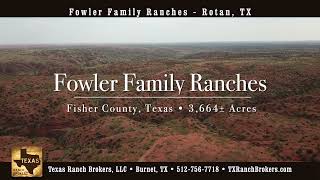 Aerial Map →
Digital Brochure →
Virtual Tour →
PROPERTY DETAILS
Price: $4,378,611
Acres: 3664
Type: Acreage
Country: United States
County: Fisher
Address: 300 County Road 328
Zip: 79546
City: Rotan
State: Texas
PROPERTY DESCRIPTION
The Fowler Family Ranches is located approximately 5 miles NW of the City of Rotan, Texas in North Central Fisher County, TX. The 3,664 total acreage offered for sale consists of three (3) tracts owned by different individuals/entities of the Fowler Family outlined as follows: Pete Fowler 2,237 acres; Estate of Ruth Fowler 953 acres; and Tommie Ruth Brown and Linda Hannifin 474 acres. (50% each, undivided). The ranch is being offered as a 'whole' tract due to the configuration of these tracts. However; they can and will be sold individually according to buyer/seller arrangement.
Land:
The general topography of the ranch is 'red' sandy loam soil which is a general characteristic of ranch/farmland in that area of the county and other neighboring counties that are located along the Double Mountain Fork of the Brazos River. The terrain is comprised of several canyons that run along various parts of the ranch. Red Creek traverses that ranch into the river basin. There are very scenic views in all directions, particularly on the north part overlooking the river and Double Mountains, which are well-known landmarks in this part of the country.
Improvements:
There is a 2,100 square foot ranch house which is located at the 'front' of the ranch, approximately 2.5 miles of Highway 70 which north out of Rotan. The home is several years old and is livable in its current condition but could use some remodeling. The headquarters area contains a metal barn and shop, along with a pipe set of working/shipping corrals. There are two more sets of cattle handling corrals on the ranch.
Water:
Potable water is supplied by City of Rotan via a water line to headquarters area. This line has been in place for many years. There are no water wells on the property. The ranch is watered by eight (8) miles of water line that has installed to connect the city water source.
PROPERTY MAP / DIRECTIONS
Drive north on Highway 70 approximately 2.5 miles. Left on CR 338 for 2+ miles. Please do not trespass. Ranch is shown by appointment only. Please allow 24 or longer notice for showings.