7 D Ranch
Sold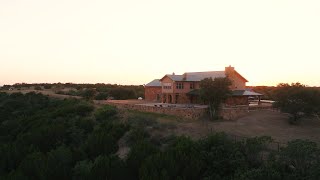 Aerial Map →
Website →
Digital Brochure →
Virtual Tour →
PROPERTY DETAILS
Price: $11,250,000
Acres: 2554
Type: Acreage
Country: United States
County: San Saba
Address: 3070 County Road 117
Zip: 76878
City: San Saba
State: Texas
| | | |
| --- | --- | --- |
| Bedrooms: 3 | Baths: 3 | SQ.FT.: 5475 |
PROPERTY DESCRIPTION
7 D Ranch
Hidden away in the heart of the Texas Hill Country with dramatic views of San Saba County is found the 2554 +/- acre 7D ranch where hunting, entertaining and ranching are the preferred way of life.
This is an exceptional opportunity for a trophy Hill Country ranch with four large-fenced pastures that are watered via the 18+ surface water stock tanks, and county water throughout. For the avid hunter and outdoor sportsman, it is home to trophy deer, turkey, quail, hogs, and varmints. The ranch is TPWD Level III MLD and has a game fenced perimeter of 80% of the ranch. The deer have been managed for over 20 years, which makes for some impressive bucks. For the cattleman there is also an interior trap connected by a fenced lane all the way to the welded pipe working pens. Fencing is in good to excellent condition throughout the ranch. All of this combined with the stunning lodge makes the 7D a very special opportunity.
Improvements:
Built to the owners specifications in 2014, the 5,475 square foot ranch house is sited upon the highest point on the ranch with big views that are typically hard to find. Being of custom timber frame construction, the two-story ranch house has 3 bedrooms and 3 baths with a downstairs master, as well two half baths. It can sleep a dozen or more comfortably. No expense was spared in constructing this impressive home with white oak floors and trim all finished by hand. Everything from the cabinets to the fixtures are custom, and the rooms, closets and bathrooms are all large enough for a corporate style Lodge. Exterior of the home, porches, pool deck and the main ranch entry are all built with native stone from the ranch. Outdoor living at the ranch was carefully thought out and designed perfectly for entertaining large groups. There are several thousand feet of wrap around porches, perfect for enjoying the scenery and wildlife, a flagstone patio with an in-ground pool that overlooks the entire ranch.
Ancillary structures include an oversized 2 car detached carport and a smoke house with BBQ pits that rival Coopers BBQ in Llano. Included in the offering is a large 4,000 square foot pole barn for equipment storage, ten custom-built 2 person insulated deer stands that are 66 tall on steel stands along with 18-1,000 lb. feeders, a walk-in deer cooler, covered cleaning area and a 3,000 square foot insulated shop on a slab.
Habitat & Topography:
Exceptionally scenic Hill Country, the topography consists of plateaus combined with rolling post oak draws and drainages, mesquite-treed pastures, and native grasses beneficial to both cattle and wildlife. The elevation ranges from 1,330 feet to 1,484 feet above sea level. The 7D Ranch has 5 plateaus that create drainages and multiple large rock bottom creeks and hardwood draws throughout. The plateaus also provide stunning panoramic views overlooking the land. The property grasses are bluestem, windmill grass, switchgrass and side oats gramma. There are some areas of improved grasses and food plots for the game.
Wildlife, Hunting:
Teeming with wildlife; deer, turkey and quail appear to be in great condition with no active hunting leases in place. Drainages off the plateaus and 18+ stocked surface water tanks keep the game animals well-watered and challenge the angler. The MLD Level III managed native deer herd is only hunted by owners and friends. 20 years of managing the native herd with the ranch producing bucks in the high 150s and 160s B&C and a few 180s have been taken.
Location:
Situated on CR 117 northwest of San Saba and only a few minutes to groceries and shopping, a little over two and half hours from Fort Worth, four hours from Houston, 90 minutes from Austin and 45 minutes from Llano or Lampasas.
Additional Information:
The ranch can be purchased in two combinations, both with separate entrances off county roads. It can be purchased as the entire ranch and lodge, or just the East Division, which is 1,277 acres with no improvements other than fencing and a nice deer herd.
For more information contact Drew Colvin 512-755-2078 or Mike Bacon 512-940-8800.
Disclaimer:
The information contained herein has been gathered from sources deemed reliable; however, Texas Ranch Brokers, LLC and its principals, member, officers, associates, agents and employees cannot guarantee the accuracy of such information. The information contained herein is subject to changes, error, omissions, prior sale, withdrawal of property from the market with out prior notice, and approval of purchase by owner. Prospective buyers should verify all information to other satisfaction. No representation is made as to the possible value of this investment of type of us, and prospective buyers are urged to consult with their tax and legal advisors before making a final determination.
Real Estate buyers are hereby notified that real properties and its rights and amenities are subject to many forces and impact whether natural, those cause by man, or otherwise: including, but not limited to, drought or other weather-related events, disease (e.g. Oak Wilt or Anthrax), invasive species, illegal trespassing, previous owner actions, neighbor actions and government actions. Prospective buyers should investigate any concerns regarding a specific real property to their satisfaction.
Buyer or buyers agent, must be identified on first contact and must be present at initial showing of the property listing to the prospective real estate investor in order to participate in real estate commission. If this condition is not met, fee participation will be sold discretion of Texas Ranch Brokers, LLC.
RESTRICTIONS
NO RESTRICTIONS
USEFUL DOCUMENTS
PROPERTY MAP / DIRECTIONS
From San Saba, Texas head north on Hwy 16, Turn left onto FM 500 turn right on private road. Take left toward CR 117. Keep straight to get on to CR 117 then turn right, Ranch will be on the left.