SRK River Ranch
Sold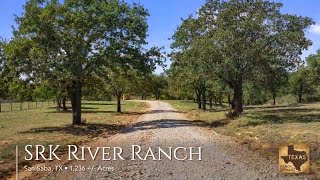 Aerial Map →
Website →
Digital Brochure →
Virtual Tour →
PROPERTY DETAILS
Price: $7,480,000
Acres: 1244.90
Type: Acreage
Country: United States
County: San Saba
Address: 00 FM 500
Zip: 78677
City: San Saba
State: Texas
| | | |
| --- | --- | --- |
| Bedrooms: 4 | Baths: 4 | SQ.FT.: 3267 |
PROPERTY DESCRIPTION
SRK River Ranch 1,244.90+/- Acres
The Ranch property contains 1,236 acres of land located along northeast side of FM 500, about one mile north of CR 215 and approximately fifteen miles northwest of San Saba in San Saba County, Texas. The property offers a wide variety of topographical relief from gently sloping improved pasture to rolling and steeply sloping native pasture. The property provides a total change in elevation of about 180 feet with the main drainage features being Cottonwood Creek, Turkey Creek and there is approximately a 1/4 mile of Colorado River frontage. Sandy loam soils typical of the neighborhood are dispersed over the subject with numerous sandstone outcrops on the upland native pastures. Tree cover consists of a variety of oak, elm, hackberry, sycamore, willow, pecan and mesquite trees. The property has been well-maintained over time with very little cedar tree regrowth. It has a desirable mixture of land types with about 100 acres in open improved pasture and the balance being in wooded native pasture. There are numerous earthen stock tanks on the property which reportedly hold water throughout the year. A private well and meters from Richland Springs WSC provide potable water to the dwellings and livestock water troughs. The entire property is enclosed within standard height barb wire fencing in good condition. Wildlife species on the ranch are typical of the neighborhood, including whitetail deer, hog, turkey, dove and quail. Several of the earthen tanks are also stocked with bass. The area has historically been owned in larger ranch units with trends over the past thirty years toward division into smaller units. Ownerships remain typically above 100 acres with several ranches above 500 acres. The balance of nearby properties consists of acreage home sites, recreational and livestock-based land uses.
Main House: The main house represents a one-story wood frame structure built on a concrete slab foundation with masonry veneer and wood siding walls covered by a standing seam metal roof. The dwelling has a modern ranch-style design with approximately 640 SF of covered porches attached to the north, east and south sides. The residence contains 3,267 SF of living area, providing four bedrooms and four baths along with a living room, kitchen, office nook, dining area, gun room and pantry/utility room. Floor coverings consist of stained and scored concrete. Walls are textured and painted gypsum board with some stone masonry column accents while the ceilings are mostly painted/textured gypsum board with some stained tongue-and-groove wood planks with exposed beams. Custom granite and ceramic tile counter tops along with fine wood cabinetry are utilized throughout the home. The kitchen is fully equipped with stainless-steel appliances and custom refrigerator/freezer. Central heat and air-conditioning provide interior climate control and are supplemented by two masonry fireplaces and ceiling fans. The main house was completed in September 2003 and has been well-maintained. Overall, the house represents high-quality construction.
Guest Cabin: The guest cabin is located southwest of the main house, containing a total of 1,394 SF of living area. The cabin represents wood frame construction on a pier-and-beam foundation with masonry and concrete fiber board siding on the exterior walls and a corrugated metal roof. A 410 SF covered porch is attached to the front of the cabin as well as a 230 SF enclosed screen porch. The floorplan provides two bedrooms and two baths with a bunk room, open dining/kitchen/living area and pantry/utility room. Interior finishes include rustic wood floors and barn wood panel walls and ceilings. The cabin utilizes central heat and air for interior climate control. An on-site septic system handles wastewater disposal. The guest cabin represents older original construction with additions and remodeling occurring within the past fifteen years.
Ranch Hand Houses: There are two ranch hand houses located on the southwestern portion of the subject near FM 500. These two modest dwellings consist of wood frame construction with siding exteriors and sheet metal roofs. One house contains about 900 SF and is built on a concrete slab foundation while the second house utilizes a pier-and-beam foundation and contains about 1,350 SF. Both structures use window units for cooling and space heaters with on-site septic systems handling wastewater disposal. These houses are occupied full-time by employees of the ownership. The age of the houses is unknown but is estimated to have been built in the 1950s. A 700 SF detached garage is situated south of the ranch hand houses. This structure is supported by a wood pole frame with corrugated sheet metal covering the sides and roof over a dirt floor.
Barn: This structure encloses 2,400 SF with two 15-foot overhangs on each side for covered parking and storage. The barn utilizes a steel frame and has cypress wood exterior walls supported by a concrete slab foundation with a sheet metal roof and sliding doors on each end. There is a 180 SF screened game processing room located on the northwest corner of the building connecting to a walk-in cooler. The barn is used for ranch vehicle maintenance, game processing, as a work shop and for storage of lumber, tools and supplies. The barn was built in about 2003.
Equipment Shed: This structure consists of pipe and steel frame construction with open sides and a sheet metal roof. The canopy covers approximately 2,700 SF and has a dirt floor. The equipment shed was built in about 2015.
Horse Barn: This building was constructed on a pipe and steel frame with cypress wood covering the exterior walls and a sheet metal roof. The horse barn is open on two sides and contains a total of about 5,145 SF under roof. The six stalls and covered pen have a dirt floor while the tack room, storage room and wash areas are on a concrete slab. The tack and storage rooms are fully enclosed with cedar siding walls. A 240 SF covered porch on a concrete slab is attached to the north side of the building. The structure is used for care of horses and livestock and is connected to a set of pipe livestock working pens on its south and east sides. The horse barn was built in about 2006.
Ranch Improvements: The ranch contains a good network of interior ranch roads that are maintained by ranch employees using a road grader and bulldozer. In addition, the property contains numerous earthen stock tanks scattered throughout which serve as water sources for livestock and wildlife. Many of these earthen tanks are stocked with bass.
Water: The ranch is located within the Richland Springs Water Supply Corporations (WSC) Certificate of Convenience and Necessity (CCN) Boundaries. Potable water for use on the property is supplied by Richland Springs WSC meters and by an on-site private well. Livestock water is supplemented by numerous earthen stock tanks.
Wastewater: The ranch building improvements utilize on-site septic systems for wastewater disposal.
Fencing: The perimeter of the ranch is fenced with standard-height 7-strand barb wire fencing on a mixture of wood and steel posts in good condition. Portions of the property are also cross-fenced.
Minerals: Negotiable, and subject to title inspection.
Rare and unique, anything comparable will be very hard to find, you owe it to yourself to see it before its gone. Call today for a private showing contact Drew Colvin 512-755-2078 or Mike Bacon 512-940-8800.
PROPERTY MAP / DIRECTIONS
From San Saba, north on Hwy 16, turn west on FM 500, for approximately 12 miles, gate on right.