The Bluffs at Yancey Creek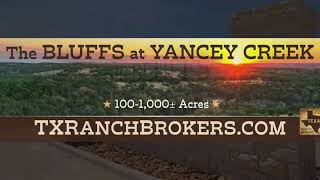 Aerial Map →
Website →
Digital Brochure →
Virtual Tour →
PROPERTY DETAILS
Price: $2,754,950
Acres: 100.18
Type: Hunting Land, Ranches, Recreational Property
Country: United States
County: Lampasas
Address: 00 County Road 1287
Zip: 76550
City: Lampasas
State: Texas
PROPERTY DESCRIPTION
The Bluffs at Yancey Creek
Lampasas, County TX
Ranches for sale 100-1000+/- Acres
Stake your claim on a part of a spectacular Hill Country Ranch. Perhaps the last of its kind, a ranch this close to Austin that offers such privacy and seclusion. Big rolling hills, covered with native grasses and mature trees provide an untouched canvas of opportunity. Elevation changes throughout the ranch produce sweeping vistas and stunning-unspoiled views, the very kind that make the Hill Country one Texas most beloved regions.
The ranch is being partitioned out of a much larger property, that once was primarily a trophy whitetail ranch. The parcels that are being offered range in size from 100 acres to 1,000 acres. This ranch is fully inside the high fenced enclosure of the larger parent property. It is home to a variety of native wildlife including genetically superior whitetail deer, turkey, feral hogs and a variety of exotics including black-buck, red deer and aoudad.
Access is by a paved road. There are seasonal creeks throughout the property that lend themselves to tank and lake construction. A number of water wells have been drilled across the ranch to ensure plentiful water is available for any future owner. Individual ranch ownership includes rights and access to the Colorado River adjacent to Bend State Park. Electrical service is also easily accessible. To protect the character and value of the property, the seller has placed some brief and reasonable restrictions on the property. the seller will divide, and additional acreage is available.
A special place is just 15 minutes southwest of the town of Lampasas and just over one hour from Austin, The Bluffs at Yancey Creek. For those looking to create a one – of – kind lifestyle against the beautiful backdrop of the Hill Country, The Bluffs at Yancey Creek offers this opportunity on a rare scale.
Ranch 1 57.01 $1,567,775
Ranch 1A 100.18 $2,754,950
Ranch 2 100.53 $2,764,575
Ranch 3 100.74 $2,770,350
Ranch 4 101.50 $2,791,250
Ranch 5 100.70 $2,769,250
Ranch 6 100.04 $2,751,100
Ranch 7 100.19 $2,755,225
Ranch 8 100.12 $2,753,300
Ranch 9 100.92 $2,775,300
Ranch 10 110.60 $3,041,500
Ranch 11 115.82 $3,185,050
Contact Drew Colvin 512-755-2078 or Mike Bacon 512-940-8800 for your private showing.
Disclaimer:
The information contained herein has been gathered from sources deemed reliable; however, Texas Ranch Brokers, LLC and its principals, member, officers, associates, agents and employees cannot guarantee the accuracy of such information. The information contained herein is subject to changes, error, omissions, prior sale, withdrawal of property from the market without prior notice, and approval of purchase by owner. Prospective buyers should verify all information to other satisfaction. No representation is made as to the possible value of this investment of type of us, and prospective buyers are urged to consult with their tax and legal advisors before making a final determination.
Real Estate buyers are hereby notified that real properties and its rights and amenities are subject to many forces and impact whether natural, those cause by man, or otherwise: including, but not limited to, drought or other weather-related events, disease (e.g. Oak Wilt or Anthrax), invasive species, illegal trespassing, previous owner actions, neighbor actions and government actions. Prospective buyers should investigate any concerns regarding a specific real property to their satisfaction.
Buyer or buyers agent, must be identified on first contact and must be present at initial showing of the property listing to the prospective real estate investor in order to participate in real estate commission. If this condition is not met, fee participation will be sold discretion of Texas Ranch Brokers, LLC.
USEFUL DOCUMENTS
PROPERTY MAP / DIRECTIONS
From Lampasas FM 580 West to FM 1494, Left then 2 miles to CR 1255, bear right then 8 miles to CR 1287, then left for 2 miles. The Bluffs of Yancey Creek entry will be on the left.