Stillwater Lake House
Sold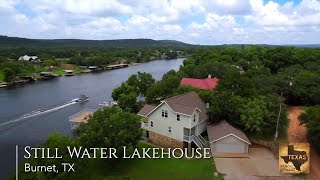 Aerial Map →
Website →
Digital Brochure →
Virtual Tour →
PROPERTY DETAILS
Price: $2,500,000
Acres: 0.56
Type: Acreage
Country: United States
County: Burnet
Address: 136 Lost Trail
Zip: 78611
City: Burnet
State: Texas
PROPERTY DESCRIPTION
Still Waters Lakehouse is a breathtaking, modern residence currently functioning as a vacation rental and 2 empty lots! A rare find on open-water. The home provides lovely open living areas and expansive lake views from every level. Upon entry the open floor plan and modern setting seamlessly transitions into a full-home main balcony with a spacious seating area overlooking the lake, also serving the main-level master bedroom. The top floor provides a cozy shared balcony overlooking the lake. The bottom floor features an open floor plan and lake views similar to the main level, boasting a full second kitchen and bunkroom the options are endless. The bottom full-home porch has a grill and seating area. A slate path leads directly down to a large 2-story boat dock. 2 jet-ski slips and a boat dock give plenty of space for all the toys! The top level provides a lovely seating area with a fire pit, and plenty of room to tan! This property has a strong, established rental history and has proven a popular multi-family vacation rental option.
Now including the 2 adjacent lots! Total 170′ WFF. Currently a spacious yard, both have potential for building on!
Call agent Josh Robertson 512-539-7914 for more information.
Disclaimer:
The information contained herein has been gathered from sources deemed reliable; however, Texas Ranch Brokers, LLC and its principals, member, officers, associates, agents and employees cannot guarantee the accuracy of such information. The information contained herein is subject to changes, error, omissions, prior sale, withdrawal of property from the market with out prior notice, and approval of purchase by owner. Prospective buyers should verify all information to other satisfaction. No representation is made as to the possible value of this investment of type of us, and prospective buyers are urged to consult with their tax and legal advisors before making a final determination.
Real Estate buyers are hereby notified that real properties and its rights and amenities are subject to many forces and impact whether natural, those cause by man, or otherwise: including, but not limited to, drought or other weather-related events, disease (e.g. Oak Wilt or Anthrax), invasive species, illegal trespassing, previous owner actions, neighbor actions and government actions. Prospective buyers should investigate any concerns regarding a specific real property to their satisfaction.
Buyer or buyers agent, must be identified on first contact and must be present at initial showing of the property listing to the prospective real estate investor in order to participate in real estate commission. If this condition is not met, fee participation will be sold discretion of Texas Ranch Brokers, LLC.
PROPERTY MAP / DIRECTIONS
From Burnet, head W on HWY 29 for just over 2 miles, Turn left (S) onto 3509 and continue for 8.2 miles, at the dead end turn left and immediately turn right on CR 118, after 1.6 miles on CR 118 turn right onto Lost Trail.Eastbound on 29: Turn right (S) onto Park Road 4 and continue for 6.2 miles, turn right onto CR 118 and continue for 1.6 miles, turn right onto Lost Trail