Los Cazidor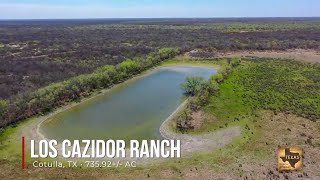 Aerial Map →
Digital Brochure →
Virtual Tour →
PROPERTY DETAILS
Price: $1,251,064
Acres: 735.92
Type: Acreage
Country: United States
County: La Salle
Address: Albert Martin Road
Zip: 78014
City: Cotulla
State: Texas
PROPERTY DESCRIPTION
Reduced to $1,700 per acre! An ideal sized ranch in one of the premiere hunting counties in Texas! This ranch is approximately 13 miles southeast of Atresia Wells off of a maintained private road connecting from Albert Martin Road. It is the perfect combination of thick brush and regrowth areas with all the necessary high protein vegetation to grow those large-antlered bucks. Most of the pastures that were once grazed have grown up enough to support a large quantity of game, while still providing the opportunity to designate food plot areas. There are 4 ponds that are reliable year-round and one frack-water lake. The Ranch is divided into one high fenced pasture and one low fence, pasture. The deer & dove, quail and turkey hunting are amazing. This ranch has the perfect private location and price for the new owner to create their dream ranch!
Improvements: This ranch provides a functional deer camp. The camp houses are converted con-exs and are in a ideal location at the front of the ranch. Good oil field roads and senderos provide easy access to all areas of the ranch.
Vegetation: Land is gently rolling and has thick high protein brush with good interior roads to all parts of the ranch.
Wildlife: Wildlife includes quality whitetail, buffalo, hogs, turkey, dove, quail and many other animals can be observed. Brush including guaycan, black brush, granjeno, brasil and many others. There is a great variety of vegetation to support antler development and overall health of native wildlife.
Call: Drew Colvin 512-755-2078 or Mike Bacon 512-940-8800 for more information.
PROPERTY MAP / DIRECTIONS
From San Antonio take I35 south to Laredo. Exit Artesia Wells. At overpass take a left and then right on the I35 access road. Left on Albert Martin Rd. Approximately six miles turn right on private road. The ranch is three miles down the private road.