Whitehall Ranch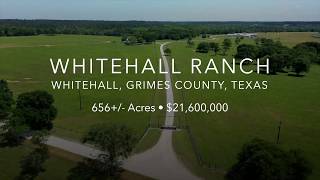 Aerial Map →
Virtual Tour →
PROPERTY DETAILS
Price: $21,600,000
Acres: 656
Type: Ranch
Country: United States
County: Grimes
Address: 3896 County Road 305
Zip: 77868
City: Whitehall
State: Texas
PROPERTY DESCRIPTION
The rolling hills and quiet pastoral setting of Whitehall TX have a wonderful secret, The Whitehall Ranch. Unique, beautiful, special are all such overused words in the world of real estate, however in this case they only scratch the surface. It is rare to see this level of quality and detail in a rural setting. The owner was in no rush to get this right and went to and continues to go to extraordinary lengths to ensure its place among the finest properties in Texas.
656+/- acres of magnificent ranch property is located on a no outlet county road. Whitehall Ranch offers every amenity you could desire on your private ranch.  Located close to Houston and College Station it is only minutes by helicopter from the FAA certified helipad at the Ranch to just about any amenity you would need, including the Houston Medical Center.
Major highway arteries including Highway 6 and the new Highway 249 extension are close by, allowing quick and easy access to all points.
A private family compound tucked into a natural protected setting reflects the thoughtful merger of inspiration and architecture.  The main residence, two guest homes and pool complex are a masterpiece of design and modern luxury with soaring ceilings and wall to wall windows. No detail was overlooked. Terraced landscaping and exotic Zoysia and Muhly grasses offer a Zen like setting among architectural symmetry and dramatic lines.
A manager's home and three employee homes are also located on the ranch, each designed to complement the Ranch.
The Stable Complex hosts two mirror image horse barns with ten oversized stalls in each barn. Tack rooms, grooms' quarters and office are in the barns. Built on a high point of the ranch the views are vast and overlook the regulation polo field and lakes.   An equipment barn, a fully appointed shop building and a covered shed for trailer parking and hay and shavings storage complete this headquarters area.  Fenced turn-out paddocks, a round pen and large beautiful pastures are all accessible from here.
The beautiful stable complex is an equestrian's dream.  If you are a polo enthusiast and player the irrigated regulation size field was meticulously built and has hosted many polo tournaments.  This would also be a great grand prix field or outdoor hunter course for hunter/jumper riders.  All riders would enjoy this polo field to ride on-the footing is perfect!! Trails meander through the beautiful hardwoods and pines and across open rolling senderas.
The fenced garden, orchard area, garden house, chicken coop and yard are close by.
This hilltop has an FAA approved, lighted helipad for both day and night landing enhancing the already extraordinary access.
Beautiful rolling pastures are fenced and cross fenced for grazing.  Hay production provides high yields for cattle and horses.  There are working pens for cattle.  Currently the ranch runs about fifty mother cows and replacement heifers. The carrying capacity can be increased by opening up more pasture area to grazing.
Whitehall Ranch offers sporting and recreation to sooth the soul.  Hiking or riding throughout the miles of trails on the ranch you might will see abundant wildlife, grazing cattle and easily forget the rigors of city life.
Launch your canoe or pontoon boat and fish in the 8-acre lake or enjoy an evening ride on the water to watch the sunset. The lake is stocked with bass, perch and blue gill.  Nearby is a waterfowl preserve developed specifically to host numerous aquatic species.
The trap and skeet complex has a cozy club house to enjoy a beverage after shooting or just relax and enjoy the view. With high/low houses designed for accuracy and elevation and eight shooting stations the most accomplished shooter will never tire of this well thought out and perfectly designed facility.
Whitehall Ranch is certainly at the top of the short list of luxury ranches in Texas and the United States.  Exceptional recreation, grazing for cattle and horses, excellent fishing and hunting, miles of whisper quiet trails, sport shooting and a private compound for you and your guests, all within an hours drive of Houston – that checks all the boxes! This is a must see, must experience ranch for the serious buyer.  Property is listed with AFR PARTNER Deitra Robertson Real Estate, Inc.
Private appointments now being accepted.
Inquires please contact Drew Colvin  512-755-2078 or Mike Bacon  512-940-8800.
LOCATION
Whitehall Texas is located close to Houston and College Station. Private appointments now being accepted.
IMPROVEMENTS
Private Compound with main residence, Two guest homes, Ranch manager house, 3x employee houses, Lighted FFA Helipad, Stable complex, Two large horse barns, Tack rooms, Office, Equipment buildings, Round pen. Cattle pens, Pastures for cattle/horses/hay, Fenced garden and orchard, Regulation Polo Field, 8 Acre Lake with dock, Lake with waterfowl habitat.
USEFUL DOCUMENTS
PROPERTY MAP / DIRECTIONS
SEE AGENT