Starke Farms Tract 1-N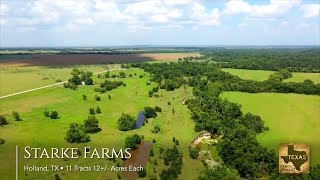 Aerial Map →
Website →
Virtual Tour →
PROPERTY DETAILS
Price: $331,317
Acres: 12.27
Type: Ranches, Recreational Property, Residential Property
Country: United States
County: Bell
Address: 00 E. Travis Road
Zip: 76534
City: Holland
State: Texas
PROPERTY DESCRIPTION
Come see Starke Farms located off E. Travis Road in Holland Texas. Holland Texas is located between Austin & Waco, ten miles east of Salado off interstate 35. It is a rich blackland farm community in southern Bell County just North of the Williamson County Line.
Small affordable attractive tracts, Holland I.S.D. will be a great place to live for a family setting or retire with low tax rate and rare acreage opportunity. Light restrictions does not allow mobile homes.
Tract 1N is 12.27 Acres. Has a set of pens and few trees.
Holland Texas History:
About 1860 early settlers began community life along a stretch of Darr's Creek in southeast Bell County a mile east of present-day Holland. They called their settlement Mountain Home inasmuch as it adjoined Gotcher's Hill. The settlement grew and in 1877 added James R. Holland and his steam cotton gin a mile west along Darr's Creek. Cotton was king. Construction of the tracks of the Katy (Missouri, Kansas, and Texas Railroad) were begun. Mountain Home became Holland in 1879 with final incorporation as Holland in 1891.
Community has a yearly corn festival full of family fun. Make this your community and come see today.
For more information Call Tammy Parker (972) 921-6772.
Disclaimer:
The information contained herein has been gathered from sources deemed reliable; however, Texas Ranch Brokers, LLC and its principals, member, officers, associates, agents and employees cannot guarantee the accuracy of such information. The information contained herein is subject to changes, error, omissions, prior sale, withdrawal of property from the market with out prior notice, and approval of purchase by owner. Prospective buyers should verify all information to other satisfaction. No representation is made as to the possible value of this investment of type of us, and prospective buyers are urged to consult with their tax and legal advisors before making a final determination.
Real Estate buyers are hereby notified that real properties and its rights and amenities are subject to many forces and impact whether natural, those cause by man, or otherwise: including, but not limited to, drought or other weather-related events, disease (e.g. Oak Wilt or Anthrax), invasive species, illegal trespassing, previous owner actions, neighbor actions and government actions. Prospective buyers should investigate any concerns regarding a specific real property to their satisfaction.
Buyer or buyers agent, must be identified on first contact and must be present at initial showing of the property listing to the prospective real estate investor in order to participate in real estate commission. If this condition is not met, fee participation will be sold discretion of Texas Ranch Brokers, LLC.
USEFUL DOCUMENTS
PROPERTY MAP / DIRECTIONS
Head south on highway 95 in Holland. Take a left on to E. Travis Street approximately 1.5 miles be on both sides of the road.